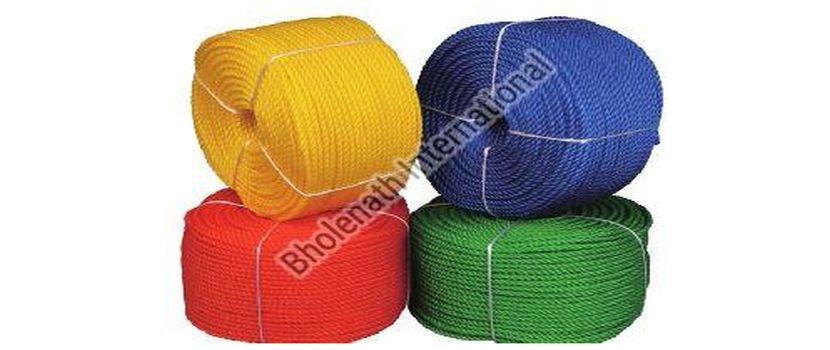 Bholenath International is a company which is based in Gujarat, India. The company was incorporated in the year 2020 and has become an expert in packaging plastic rope exporters and suppliers. The company also became an expert in other products like aluminum scrap, screw and much more. The company has a huge number of customers all around India wanting these products. These products are in high demand because of their quality and efficiency. The company is always involved in producing innovative and new products as per the changing market trends. The company uses advanced techniques, designs and product engineering to make the products superior to similar kinds of products available in the market provided by other companies. The company is committed to producing products that are of great quality and never compromise with their quality. They have a team of professionals who manage the products and also monitor the changing trends in the market and fulfill the demands of their customers.
Ropes
The rope has a long history that started in prehistoric times when it was used as an essential tool for hunting, pulling, fastening, attaching, lifting, packaging, carrying, and climbing. The ropes are pieces of twisted and braided vines.
The ancient Egyptians fabricated ropes as early as 4,000 B.C. out of animal hair, water reeds, grass, and leather. Although it remains a mystery how they carved and transported the stones, there's no doubt they used ropes in constructing pyramids.
HDPE Ropes
Bholenath International is a manufacturer of strong plastic rope for packaging and is made of HDPE material. The ropes that they manufacture have strength so that they can be used for loading bearing, dragging and lifting purposes. The company is the leading manufacturer of HDPE ropes in India. The HDPE ropes are very thick and strong.
Application of these Ropes:
HDPE ropes have been used since ancient times in every area of life and are still required today. The construction Industry till now requires this rope. The ropes are made using advanced technology. Why are the ropes manufactured by them in demand for exploration, sports, theater, packaging goods for import and export, mountain climbing etc. The raw material used in making such ropes are of high quality and they can assure you that it is of superior quality and make.
Material Used in Ropes:
Although ropes are required in every field in life, they are all different. The material of ropes varies from use to use. Ropes are manufactured from a variety of materials like cotton, jute, leaded polysteel, manila, nylon, polyester and polythene. Various purposes require various kinds of ropes. The HDPE ropes manufactured by us are the latest demand in the market.
HDPE Ropes Manufactured at their plant.
HDPE Ropes from Bholenath International have a few unique features and qualities that make them very useful. They are most applicable when the purpose mainly surrounds water as it does not rot and can resist mildew. The ropes are made in a variety of colors making them easily distinguished in certain places as a kind of barrier. Swimming Pools have HDPE ropes because the ropes can easily float on water. Commercial Fishermen use it in their everyday lives in their occupation. The dielectric ability of their ropes is another advantage. It does not conduct electricity. Rather it acts as an insulator. Their ropes can withstand abrasion and friction.
Pros of HDPE Ropes
The HDPE Rope is very useful as it is a good insulator, floats on water, is water-resistant, is light in weight, cost-effective, is UV Resistant and has a color variety. As they are very effective and useful, many HDPE Ropes Export Company from Junagadh are now trading the ropes even more strongly.
Strength Of HDPE Ropes.
The common twisted ropes are also known as laid ropes. It usually consists of 3 or 4 ply or strand ropes. At their factory, they are manufacturing different kinds of roles that are mentioned. The twist of the ropes is indicated by the upper case of the alphabets "S" or "Z" type. These twists in their ropes supply the strength to the ropes and now HDPE Ropes Export Company from Junagadh is manufacturing and stocking these kinds of ropes which can be acquired from upon contact.
Polypropylene rope
Polypropylene rope is a fantastic general-purpose piece of rope equipment that is suitable for a number of uses in the domestic, business and leisure domain. As mentioned, it comes in a variety of lengths and thicknesses, making it a strong, sturdy choice that provides a number of advantages that sets it apart from other similar types of rope.


Rot-Proof Material – Polypropylene is a great material for load restraint as it's completely rot-proof! This comes as a gigantic advantage for long-term use and storage, especially when used outdoors where the possibility of it being regularly soaked is high. Other kinds of ropes such as hemp rope, for example, will not be able to withstand such conditions due to bacterial growth. Polypropylene rope, on the other hand, is able to sustain its capabilities and strength for much longer.
Ability to Float - At first, this may not seem to be a great advantage, but if you need a rope for boating purposes, a rope that does not float will not last long at all. As polypropylene is able to be easily recovered, it makes it a natural selection for ropes used in and around water. Its bright color also enables it to be easily seen in harsh ambient weather, low-light conditions or against the dark backdrop of water.