PET Strap: An Environment Friendly Packaging Material
Posted by Admin on September, 16, 2021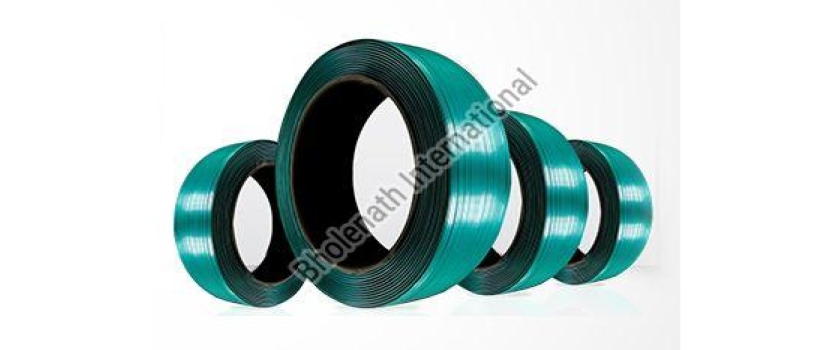 PET Strap stands for Polyester strapping. It is also said a PET packaging belt is made from recycled materials and is smooth in texture. As it is created from recycled materials like plastic bottles, it is mostly green in colour. Generally used to pack the heavy loads that require high stress during transport and storage.
PET strap also known as PET plastic belt is widely used as packaging material. It is formed of selected polypropylene materials wherein a polyester sheet is put through stretching steps with a specific stretch ratio. There is a full inspection and technical parameter test of raw materials in the warehouse department. The implementation of 6S management controls every portion of the production.
Benefits of using PET strap:
This PET strap has unique benefits that make it a trusted choice for its consumers. The following benefits are:
Increased Safety property: It is easy to handle as compared to steel strapping due to the lack of sharp edges. The dull edges of PET straps reduce cut and damages. When comparing rolls of equal length, it is considerably lighter.


Reduce the environmental impact: The production of Pet straps uses plastics or resins as its raw materials. These straps are recyclable products and can reduce packaging waste and disposal costs. It reduces environmental impact and can be recycled again to produce post-consumer products. It is environmental – friendly packaging.


Increased performance and durability: These PET straps have a performance advantage due to their elongation property. This help straps to stay tight when load expand and contract. The best choice for lumber loads as it can stretch and maintain their strength.
Increased cost saving: The above-listed benefits decreases the handling costs and disposal cost. It also reduces the safety cost.
PET Strap Exporter in India exports PET straps are impact-resistant used as packaging material in the steel industry, ceramic industry, food industry, home appliance industry, logistics industry, chemical fibre industry, textile industry, and wood industry. It is mostly used in the cotton industry followed by automotive, appliance, and others.
Characteristics of PET Strap:
PET Strap Exporter in India as well as the leading manufacturer and supplier of PET straps manufacturers produce best quality straps under expert professionals to promise quality. It is said to be a less expensive alternative to a steel belt and has a lower strength packaging requirement. It has the following characteristics:
Unmatched tensile strength to replace the steel belt
Anti –Slit and do not break in between

Corrosion Resistance

Ability to absorb high shock

Resistance to tear and UV light

Recyclability

Moisture-proof
Where to get a PET Strap?
Looking for a good quality product at a reasonable price, you can purchase these PET Strap online and offline both from the PET Strap Exporter in India. They supply with following features:
Extremely Versatile

Elasticity

Hygienic manufacturing

Easy maintenance

Available in various colours and sizes

Long term usage

Nationwide delivery
These all features give 100% satisfaction to the clients. Reach the supplier at their website to overview the product. From there you can easily make your choice and get the selected strap at your doorstep. Easy payments make online purchasing of PET straps highly preferring.
This entry was posted on September, 16, 2021 at 20 : 15 pm and is filed under Packing Straps. You can follow any responses to this entry through the RSS 2.0 feed. You can leave a response from your own site.