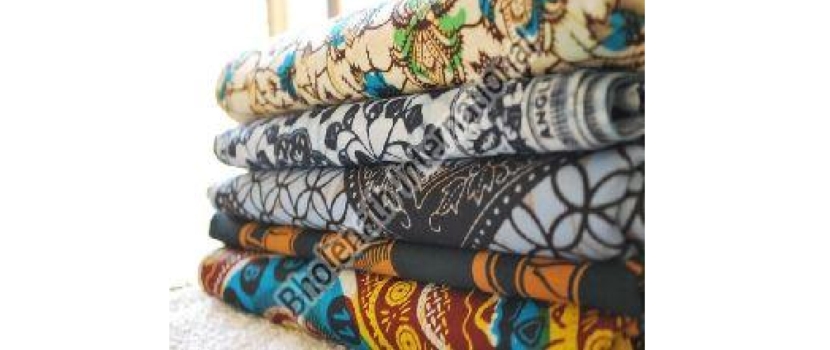 African printed fabric, often known as kitenge as well as Ankara fabric, is a colourful, mass-produced 100% cotton fabric that is extensively worn and utilized to construct apparel, accessories, and other things in Africa.


The African Print Fabric in Gujarat is made using batik, an Indonesian wax-resist dyeing process and an old art form.


Together the front and reverse sides of the cloth have the same pattern design and colours. The fabric's quality is determined by the kind of cotton cloth used and the production process used.


A full piece of kitenge cloth is approximately 12 yards long, but you'll be able to find half pieces that are 6 yards long. Fabric width differs by producer, but it is normally around 46 and 48 inches.


The History:
Batik fabrics were revealed by Dutch traders in Indonesia, and examples were transported out to the Netherlands.


Dutch textile makers figured the how-to mass-produce batik-inspired counterfeit fabrics by printing the material in quantity by machine.


The old batik fabrics remained favoured in Indonesia, which is why these new materials were not well received. When they were transported throughout West Africa mostly in the 1880s, they were quite well appreciated.


The prominence of the materials was partly attributable to the fact that West African soldiers fighting in Indonesia carried the batik fabrics along with them when they came back home.


For many decades, several distinct European producers, such as the British and Dutch, created the fabric before it had been exported to African countries.


Fabric production has increased dramatically in Asia throughout recent times (mainly in India). When comparing to original West African fabrics, the fabrics they make are of inferior quality and cost less.


Because of their well-known underlying significance, African women's fabrics are also sometimes employed as a form of nonverbal interaction and communication. The colours and patterns utilized for each print pattern can represent a tribe, marriage, or the user's social rank.


The tales and secret meanings underlying the fabrics are created by the women who wore them after they are produced, printed and transported to marketplaces, notably in West Africa. This data is forwarded to the producer, who renames the cloth to something more appealing.


Uses:
African print fabric can be used in a variety of ways. To begin, drape the fabric over your shoulders like just a towel and wear it as is. This could be used as aprons while cleaning or scrubbing, for holding newborns on moms' backs, and, obviously, for making trendy African print clothing.


Pillows, draperies, bed linen, tablecloths, quilts, decorative items, bunting, and household items such as handbags, shoes, and jewellery can all be made from the fabric.


African print cloth may be used to make almost just about everything you can think of. It's highly adaptable, and that's what makes it so appealing.


Final Words:
African fabric is now available in a variety of sizes! Simply pick your favourite fabric and put the desired number of yards to your cart. Quilters and crafters may be able to get their hands on some fat quarters. There are numerous beautiful designs, styles, and colours to pick from.